Carved into the side of the limestone cliff, the Combe Laval route winds its way along the ledges in a magnificent cirque.
One of the Vercors' emblematic tourist itineraries, which leads to the belvedere at the Col de la Machine. With eleven tunnels and numerous balcony sections hanging over the void, Combe Laval is one of the most audacious routes to access the Vercors plateau on the Drôme side. It weaves its way through a magnificent rocky cirque, protected as a classified site. This titanic 4km deep cut was left by a small stream, the Cholet, that you can just pick out below the road. 700 metres of elevation between Saint-Laurent-en-Royans and the Col de la Machine, the route's highest point. Just mind-blowing !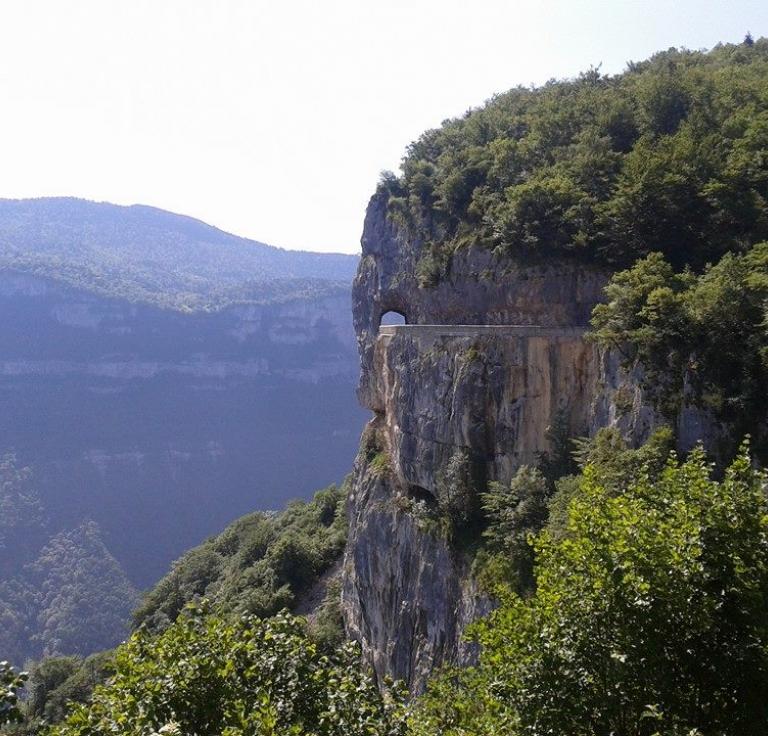 An historic route
It took five years work in the 19th century to build this spectacular route opened in 1898. The intrepid acrobatic workers cut it out using explosives. What was the aim of this titanic, risky endeavour? To take wood from the majestic Lente Forest down to the valley! This precious material could then be taken to the Isère then the Rhône by river.
A panoramic belvedere
This former forestry road has today become a major Vercors tourist attraction. To admire the tortuous landscape of the Combe Laval, head for the Col de la Machine belvedere, at 1,020 metres altitude. From there, you can appreciate the breathtaking panorama from the Combe Laval to the Royans. You will also have a plunging viewpoint over the orthodox monastery of Saint-Antoine. This has a Byzantine style architecture that is somewhat unexpected in the Vercors. Its unusual presence only reinforces the magic !