Nestled at the heart of the Gorges de la Bourne, between Pont-en-Royans and Villard-de-Lans.
The Grottes de Choranche is one of the most beautiful French caves. It dazzles with its "fistula" stalactites, its rivers and its emerald green underground lakes. Discover the secret depths of the Vercors! Discovered in 1897, the Grotte de Choranche was opened to the public in 1967. It will introduce you to a mysterious underground world. This cave, with its exceptional dimensions, holds remarkable sculptures, created by the water over millennia. Amongst them can be found the largest concentration of fistula stalactites in Europe. These crystalline white calcite tubes can reach up to three metres in length.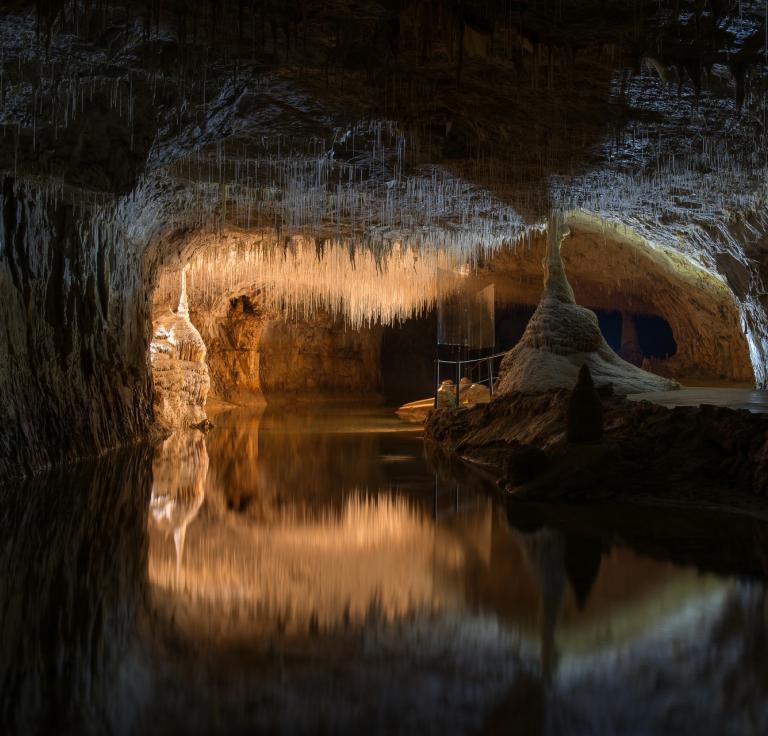 A superb spectacle on the walls
Dynamic lighting guides you along this geological fairyland. Bordered by the tempestuous Chevaline river, the Serpentine Gallery holds a succession of waterfalls and Gour pools up to the highlight of this natural Vercors treasure: its monumental 40 m wide and 25 m high cathedral chamber. These impressive dimensions showcase a colourful and poetic "son et lumière" spectacle. An astonishing prehistoric animal! At the heart of this major geological heritage, you will meet the largest predator of the underground world! Its name: the proteus. As part of a programme to safeguard the species, the Choranche caves host this cave-dwelling amphibian originally from Slovenia in aquariums in the great hall. This living fossil has adapted to the underground world, and can live for up to 80 years.