Potholing is part of the Vercors' historical heritage with sites for exploration and discovery
The wide variety of sites and their density (over 3,000 known sites) make the Vercors a major destination, from many viewpoints. But potholing in the Vercors is also a human adventure: from the major explorers (potholers, speleologists) via scientists, up to the numerous professionals that manage this activity today. The adventure continues, as new cavities are discovered each year! This fascinating environment is now at your fingertips! Accompanied by a guide, you can discover a titanic natural work made of underground rivers and chasms.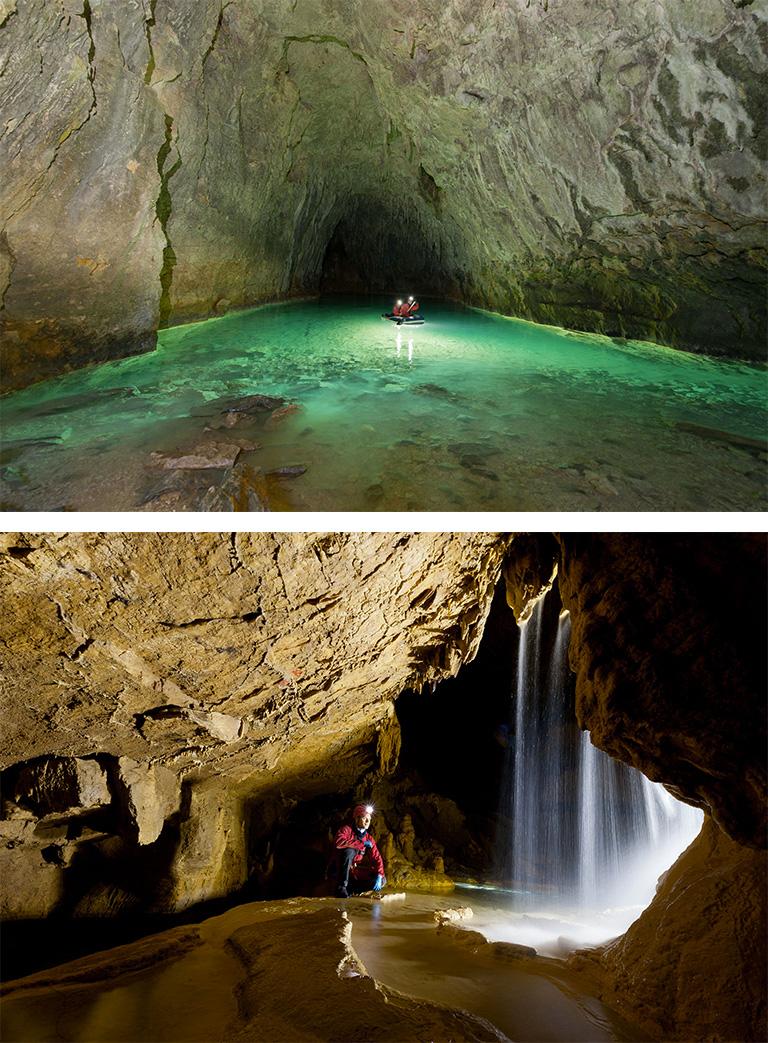 A bit of history
The first discoveries took place at the end of the 19th century under Edouard Alfred Martel. Followed by Oscar Decombaz, who brought together a team of adventurers and explored the main underground phenomena in the Vercors. From 1936, André Bourgin pushed the explorations even further and documented the first scientific research. The 1950s saw the major explorations structured by the historical clubs, notably the Gouffre Berger. Improvements to techniques and equipment accelerated the exploration of the major vertical caves in the 1960s. From the 1980s, through systematic prospections, the karst basins are explored and each club works on a relatively defined sector. The exploration continues everywhere with the introduction of diving. In 2010, the major South Vercors network - the Scialet des Chuas - was discovered, marking the last major discovery.
A few initiation cavities
- Grotte des Eymards
- Grotte de la Ture
- Grotte de la cheminée
- Grotte de Goule verte
- Grotte Roche
- Grotte des Ferrières
A few major exploration chasms
- Le Gouffre Berger (Engins)
- Le Gournier (Choranche)
- Les Chuas (Font d'Urle)
- le Trou qui souffle (Méaudre)
- Le réseau du clos d'Aspres (Villard de Lans)
- La Luire (St Agnan-en-Vercors)
- Bournillon (Châtelus)