The variety of landscapes and slopes, combined with quality trails, make the massif particularly suited to trail running.
Combining hiking and running, trail running is fast-growing activity. It combines athletic competition, closeness to nature and simplicity. In line with modern ecological values, this activity integrates perfectly with the image of the Vercors and its Regional Nature Park. With its vast plateaux, forest routes, climbs up to the ridges and peaks...the Vercors is ideal for trail running. Discover the Vercors through running, to go beyond your limits in exceptional landscapes.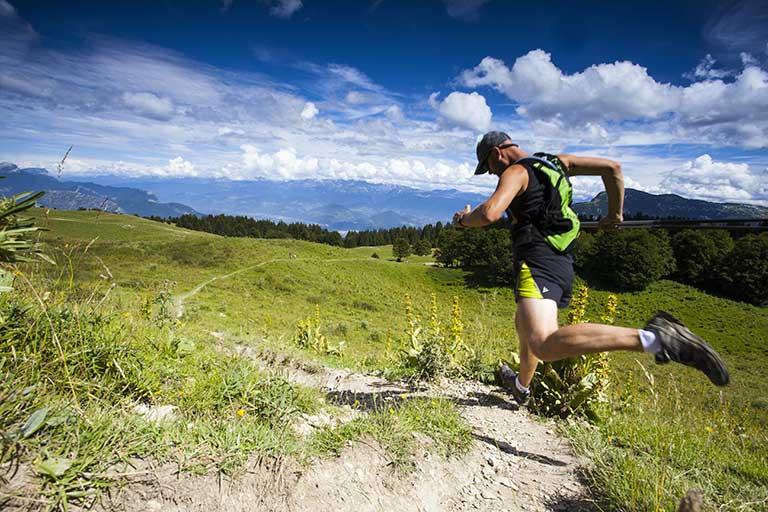 The trail running craze has reached the Vercors!
A vibrant fabric of passionate people has been built up over the years. Through the different sporting events, you can discover the various sites and know-how that the Vercors has to offer.

Traditionally, we find this agenda each year :
 
L'hivernale de Méaudre : January
Trail Vercors Coulmes :  May More informations
Trail du Pic Saint Michel : Lans-en-Vercors, May More informations
La Ronde du Mont Aiguille : Clelles, June
Les Drayes du Vercors : La Chapelle-en-Vercors, Juin More informations
Trail du Gerbier : Le Gua, June
Trail de la Falaise : à Sassenage, June
Trail des passerelles du Monteynard : Treffort, July More informations
La T'es pas cap : Lans-en-Vercors, July
Ultra Trail des 4 Massifs : August More informations
Ultra Trail du Vercors : September More informations
Trail du Tétras Lyre : St Andéol, September More informations
A trail resort in the Vercors
In 2013, the Vercors inaugurated its first Trail resort in Villard-de-Lans. This dedicated Trail resort offers itineraries, services and tools to explore the region through trail running. For more information : visit the site