After leaving Pont-en-Royans, by the famous Piccard Bridge, you enter the Borne gorges. A mineral landscape, edged by cliffs with the river never very far away, and yet man has left his visible trace if you take the time to look for it. The history of this road is as twisted as its path. It took 10 years and the devotion of Jean Serratrice and the workers hanging over the void risking their lives, to complete the construction work in 1871. And even today, it is a major challenge to maintain this link subject to climatic changes and erosion. The first section of the road climbs peacefully towards the village of Choranche, where your eyes are drawn to the high Presles cliffs (a major climbing site) and the Cournouse.
Choranche is the ideal place for a stop, with its numerous possibilities for visits. From there, the road climbs more steeply, but don't miss the intersection with the Grottes de Choranche road, as the view from here is exceptional.
Opposite, the Cirque de Bournillon unfurls its magnificence with its famous Moulin Marquis waterfall.
You can also see the hydro-electric installations, which were the other human and technological challenges of these gorges, illustrated on an information table. The road then becomes narrower and the famous balconies begin. Enjoy the views up to La Balme-de-Rencurel where you will start the next step. Here is the intersection with the major valley that crosses almost the entire Vercors from North to South, and the landscape opens out.
In the direction of Villard-de-Lans, continue along a second section of the road, which will start to narrow. You will cross the Bourne via the famous Goule Noire Bridge (intersection with the St-Julien-en-Vercors road), a titanic work that overhangs the cave of the same name, from which water from the Autrans-Méaudre valley gushes out. The balconies continue after the Valchevrière Bridge and the road narrows to its minimum before widening out again at Jarrands (intersection with the Méaudre road) then peacefully continuing to Villard-de-Lans.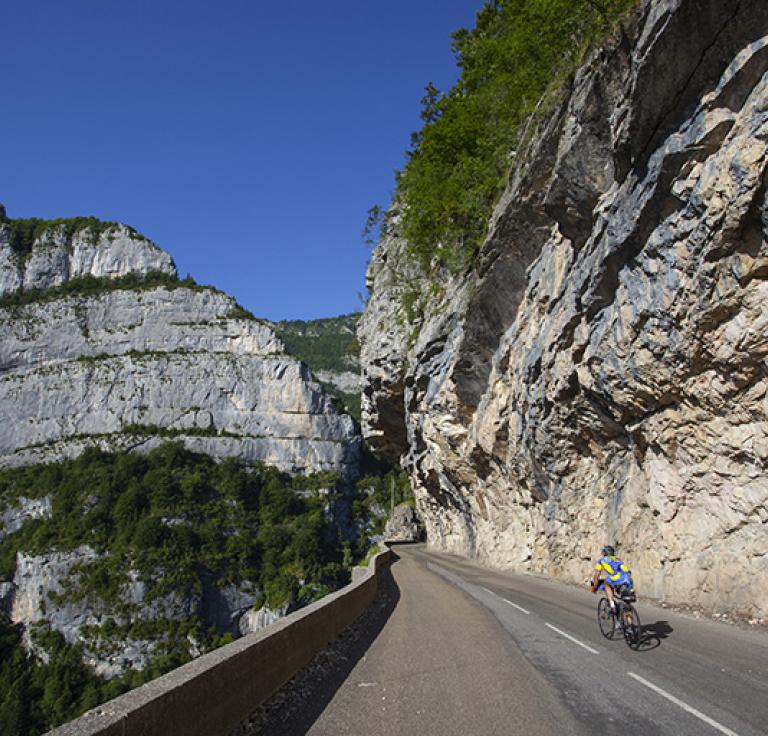 These gorges are an exceptional "cleft" which has brought extremely varied environments to light.
In addition to the significant difference in altitude between Villard-de-Lans and Pont-en-Royans, two slopes face each other, one south-facing with a specific micro-climate at the foot of the Presles cliffs, the other north-facing, colder and more austere on which the Cirque de Bournillon can be found. But above all as the river has cut and re-cut a large number of underground water flow paths, as it has carved out its riverbed, giving rise to an impressive number of caves from which most of the Vercors water gushes.